(Last Updated On: November 28, 2014)
Lenovo the Chinese MNC tech giant has announced the launch the new Lenovo Yoga tablet 2 this October. This new generation tablet can be used in whichever way one wishes to. It can be held in the hand or it can be fixed on a stand or can even be hanged on a wall.
A sneak peek at this new gadget from Lenovo
This amazing tablet has already created a stir in the market. There are clear speculations about how efficiently it is going to deliver its functions as well. It has been announced with the other two Lenovo products, the Lenovo Yoga Tablet 2 Pro and the Lenovo Yoga 3. The new generation tablet has been given a sleek design and comes in 2 screen sizes, 8 inches and 10 inches. The features and specifications of these two models are slightly different from one another. It runs on either the Windows 8.1 with Bing integrated into it or the Android 4.4 Kitkat.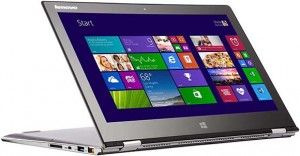 It has been made highly portable and adaptable as well. It isn't just a tablet that can be used by holding these in the hands alone but can easily be adjusted to stand on a stand, be tilted according to the need and can even be hanged from a wall. It can also be used a s a projector. This sleek and slim devise has been vested with a number of features and functions to look out for.
The notable features that can describe the gadget in just an overview are as follows:
The Hardware: The newly announced tablet would run on an Intel Atom Z3745 processor and 2 GB RAM. This ensures a smooth running device with not many interruptions. Also it would come with an 8 MP rear camera and an 1.6 MP camera in the front. These are good configurations when it comes to digital cameras on tablets and handsets. Also the internal memory too is pretty good on the Lenovo Yoga Tablet 2. A 16 GB or a 32 GB internal storage memory in two different models respectively.
Battery: It has a 3 cell 9600mAh capacitated battery that would ensure that the device runs long and without running out on the battery. One would not have to worry about putting the phone on charge every now and then either.
Features: it has been provided with a wireless keyboard dock, and also a fashionable Bluetooth accessory that doubles up as a cover for the device. A free subscription of Windows Office 365 is also provided with it.