(Last Updated On: May 31, 2017)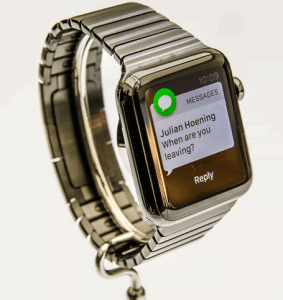 As we know, Apple is one of the best companies making mobile phone and laptop. Now the new product that it is planning to launch is the smart watch or iWatch. Apple Watch is nothing short of a super watch. Whatever we can do on mobile, all that application is available in this one little watch. This watch is the first thing that has been manufactured by this company which is wearable. It is no doubt a very useful gadget. If a person is having an Apple Watch, then he or she can skip having a big iPhone or bag of iPads.
EXQUISITE DESIGN OF THE WATCH
The design of this watch is not much different than other Apple products like iPhone or ipods. We can say that this watch looks like nano iPods with just a rectangular screen and one knob. It is more than nano iPods but nearer to iPhone 6. For calling another person, we just simply push the crown present on its face. And that's it.
The display of this amazing smart watch comes in two sizes. It is just smaller than the normal watch we wear. It has an alloy casing surrounding the screen which is mostly stainless steel. The new addition in the series of this apple watch is apple watch edition which is having 18 carat gold on it for giving it a premium look. The most important thing we have to consider is its battery life. CEO of Apple, Tim Cook didn't say anything more about its battery life, but its battery life is one day as expected
FEATURES THAT MAKE IT DESIRABLE
When we talk about the features of apple watch, these are just amazing. Because of its feature and service, it has become really popular. Its features are-
The material used to make it is stainless steel and silver aluminium.
The strap is made up by leather or it is traditional link bracelet.
We can check mails and it also has apple navigation system which helps us in navigating.
We can make calls through this smart watch. There is a crown on its dial by pushing which we can make calls.
There are three models coming in the market; Apple watch, Apple watch sport and Apple watch edition.
All models are water resistant.
Software used in this watch is just like iOS with some modification.
It completely supports voice control.
Apple is planning to launch this super watch in early 2015. Like any other Apple product, its popularity and craziness among fans is certainly guaranteed!