(Last Updated On: May 31, 2017)
Of course it was going to happen sooner or later – somebody was bound to take the smartwatch trend and make a
kiddie version, and VTech stepped up to the occasion with its new Kidizoom. The Kidizoom is all set to be the
number one item on kids' letters to Santa this year, and it is easy to see what's to love about this fantastic new little
gadget.
Customisable and Fun
Aimed at 4-9 year olds, the Kidizoom is designed to provide kids with technological fun that is also educational and
fitness conscious. The design is not unlike other smart watches on the market, with its modern square face and
choice of bright colours to own. Owners can customise the design's touch screen to suit their individual style, with
over 50 different watch faces to choose from – anything from a digital or analog clock display, to a timer and alarm
clock.
The watch is also splash proof to make it wearable for every day wear without worrying about rainfall or hand
washing breaking it. However, beware, VTech clearly states that the Kidizoom cannot be fully submerged in water.
The watch has a rechargeable battery, with each charge lasting up to a whopping two weeks, making it super
kiddie friendly for long car journeys or vacations.
A Watch That's Educational?
The watch features four included games aimed at learning, and users can log on to the VTech Learning Lodge
(which is just like their version of an app store) and download more educational puzzles to play. The games are all
designed to increase brain function in kids and boost cognitive ability, while your child obliviously gets lost in the fun
of it all.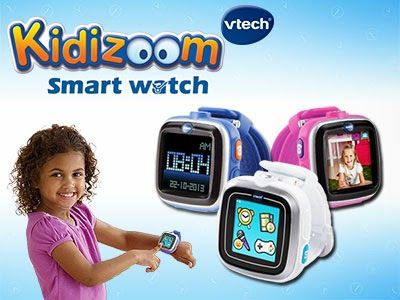 On top of this, the watch impressively features a camera, a video recorder and a voice recorder, to allow kids to
experiment with their creativity and become budding photographers. The touch screen also allows kids to add
different effects and filters to their snaps, while the voice recorder offers the option of offering funny effects to
recordings. Want the photos saved somewhere more permanent? Easy, the Kidizoom syncs with your home
computer to allow kids to save their photos and videos there for safe storage and for watching back on a bigger
screen.
The watch's inclusion of a stopwatch and video recorder have VTech marketing it as a gadget that kids will use
when they play outside and stay active, with ads showing kids timing each other in races and videoing each other
running around the playground. We aren't 100% convinced that this watch will prove effective in boosting kids'
activity levels, but we are impressed with VTech marketing smart devices to children in a positive way that
promotes going outdoors and staying active. This will make parents feel comfortable and happy that they are
satisfying their kids' demands for technology but in a positive way that keeps them playful and interacting with their
peers.
Overall, we really love this product for the features it offers kids, and we predict that kids will be sporting it right left
and centre in no time, maybe looking even cooler than their parents' in their smartwatches!