(Last Updated On: October 24, 2015)
With so much buzz around iPhones and Samsung phones, sometimes the fabulous innovative products from HTC
do not get the amount of attention and credibility they deserve. And this is particularly notable in the incredible HTC
One M8, a phone that is designed in a slick, sleek package, but also packs a lot of power and amazing features
into the equation.
Simple in Name, But Not in Features
Prepared to pull out all of the stops in order to keep competing in and stay relevant in the big leagues, HTC have
basically created the One M8 as a phone that upgrades, updates and builds on its new model from last year,
simply called HTC One. By using an already good, capable and reliable phone with great design and function and
building upon it, HTC have really been able to concentrate on delivering in every single way with every single
feature on the new and improved One M8.
So let's start with a look at the design. The brushed aluminium looks stunning, feels expensive and high end, and
offers an eye-catching piece of glimmer to the aesthetics. Making up 90% of the chassis, the aluminium looks far
superior to many plasticky models of smartphone on the market, and makes it more comparable to the chic iPhone
design than anything else, even though this model boasts a bigger screen.
Sleek Curved Design
HTC have certainly built and improved on last year's One, adding a curved back and sides that slimlines the
phone's overall appearance and makes it feel really nice in the palm of your hand. The phone is a good
combination of feeling solid in weight without giving off any vibes or feelings of clunkiness, with its pretty ideal
9.35mm thickness and 160g weight.The One M8 is available in metallic grey, silver, and champagne gold versions,
all with the brushed metal effect, which again ups this model in the style stakes and adds to the exclusive and
expensive feel.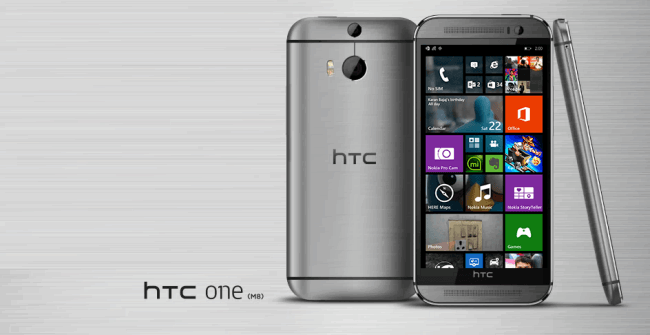 A Phone to Rival the Big Brands
While this phone is not as compact in its design as some of its competitors, it does house the wonderful addition of
boomsound speakers above and below the screen, which produce some pretty incredible sound. The output can
reach up to 95db, which is nothing short of extraordinary to come on a smartphone. The speakers also have bass
to treble balancing software to make sound really pleasingly clear and free of distortion.
The Duo Lens camera fantastic on the One M8. It offers panorama features, one touch refocus and Ultrapixel
technology, which expands the pixel size to capture more light and enhance the look of darker images. It is good
enough to keep up with other smartphone cameras on the market, and delivers high quality pictures that any user
would be pleased with.
All in all, this is a fabulous smartphone that really delivers on design, features and user friendly ability. For anyone
debating which smartphone to purchase right now, this is definitely one to really take a close look at and consider
seriously.
Powered by