(Last Updated On: January 22, 2017)
Apple and Samsung is undoubtedly the world best phone producing companies at present. Both companies are dominating the smartphone market not only by offering unique features but also by powerful hardware, functional software and user friendly features. The current phone edition of both the companies have taken the things to next level by adding a fast processor, high resolution camera and water resistant feature.  In order to get more insight of the topic we need to study each function of the device step by step and compare them.
Let's compare both the phones and understand what key differences are there and which on is best for you
Dimensions, Price and Design
Samsung Galaxy S7 is slightly larger than iPhone 7 as it comes with 5.1" big display while iPhone 7 has 4.7" of display and it also retained most of its last year iPhone 6s features in terms of design.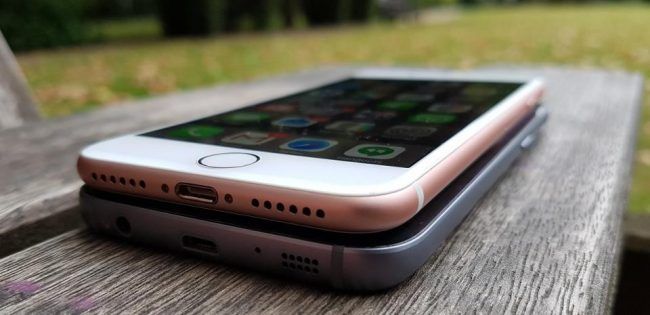 One of the prominent and most controversial changes in iPhone 7 is the removal of audio jack, now if you want to use headphone you must use the lightening connector (provided in the box) or wireless headphone. Another prominent change in the design of iPhone 7 is its new force-sensitive "taptic" home button which is more responsive and programmable by third party apps. This time iPhone also integrated its antennas and now it doesn't have antenna lines at the back of the phone. Samsung S7 has a glass front and back uses a combination of physical home button and capacitive buttons, and a metal strip along the sides mostly resembles its predecessor. In my opinion iPhone 7 has slightly more attractive in terms of design than Samsung S7.
Display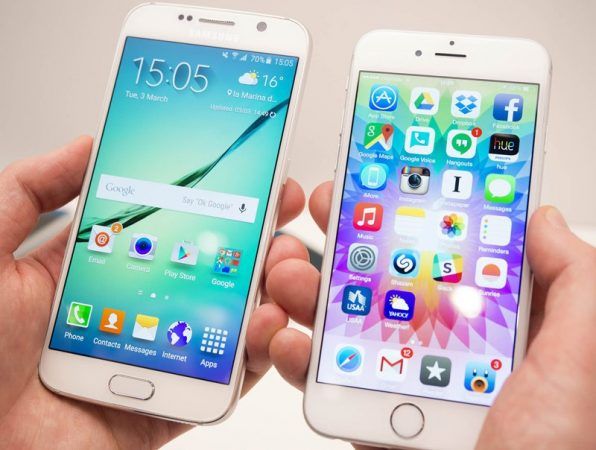 iPhone 7 has LED-backlight Wide color game 3D-Touch and Samsung S7 comes with super AMOLED display which is more brighter than the LED display. iPhone 7 lacks behind in terms of its display as it offers 326 pixel per inch while Samsung Galaxy S7 comes with 2,560 by 1,440 SAMOLED panel with 577 pixel per inch and has more rich in color and saturation. iPhone 7 has the unique touch however, you can push the app little harder and it will give you extra options regarding that app, so we can say, iPhone 7 has added another dimension in interacting with your smartphone. S7 has AMOLED display and it allows you to see time, Calendar or notifications (if you allow) on desktop screen just like wallpaper. In my opinion S7 is a clear winner here in terms of display color and resolutions.
Features

This time both companies came with dust and water proof mobile phones iPhone 7 has IP67 and Samsung S7 has IP68 waterproofing which means putting your iPhone 7 in 3 feet deep water for 30 minutes and S7 in 6 feet of water for 30 minutes will not damage your phone. Some may think it's not going to make a big difference but what if you drop your iPhone 7 or Samsung S7 in a swimming pool?

This time iPhone surprise their competitors and users by removing the headphone jack from iPhone 7 but compensated it with another surprise of dual stereo speakers one on the bottom and another on the top and it are really two times louder than iPhone 6s. In contrast Samsung S7 has the single bottom speaker with headphone jack.
Price

Apple iPhone 7 is available in 5 different attractive colors including jet black, black, silver, gold and rose gold for $649 for 32GB, $749 for 128GB and $849 for 256GB.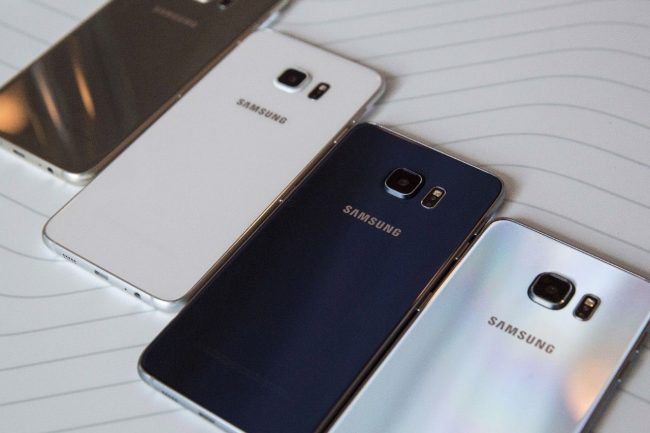 Samsung S7 out and available in five different colors 32GB for $672 and it does support micro-SD card.
Inside the Skin 
Processors
iPhone 7 came with the A10 Fusion Quad-core 64 bit M10 motion coprocessor while Samsung S7 came with Snapdragon 820 or Exynos 8890 Octa 64 Bit processor both are very fast. The iPhone 7 is quicker than S7 in opening a web page in its browser but we have to keep the number of pixel and resolution of Samsung S7 in mind which makes it slightly slower in processing.
Finally iPhone 7 get rid of the 16GB and it includes 32GB internal memory in its base model which is not expandable whereas Samsung S7 comes with micro-SD slot with 32GB internal storage.  iPhone S7 expected to have 2GB of RAM (not mentioned by Apple) and S7 has the 4GB of RAM. Apple iPhones don't generally stack apps in the back like Samsung. In my opinion S7 leads again with expandable memory option.
Camera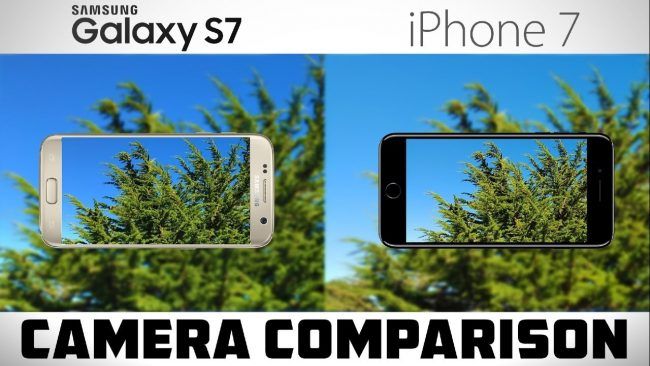 Samsung Galaxy comes with 12MP f1.7 aparture OIS Dual-pixel AF rear and 5MP front camera and this is one of the best camera Samsung has produced. It is praised by everyone all around the world as it captures outstanding details in photography whereas iPhone 7 also has 12MP f/1.8 aperture OIS Quad-LED True-Tone flash camera we didn't have last year and Apple also updated the rear camera flash now it's more brighter than the previous year. It's difficult to decide upon the quality of both cameras but in my opinion Samsung S7 slightly leads because of its high resolution display.
Comparing the videos both the phones offer similar configurations of 4K UHD 2160p, 1080p and 720p slow motion 240fps but iPhone is slightly ahead in 1080 slow motion frames per second as it offers 120fps and Samsung 60fps.
In terms of front camera we have some improvement in iPhone 7 as it offers 7MP with f2.2 1080p whereas Samsung S7 comes with previous 5MP front cam having f1.7 with 1440p.
Operating Systems
Samsung Galaxy S7 comes with Android OS v6.0.1 (Marshmallow) by Touch Wiz UI and it's the latest one available yet and for more update user have to wait and check for it on the other hand iPhone has iOS 10 which adds a range of new features like raise to wake, an expansion of Siri's capabilities to third party apps and machine learning. Apple user gets update straight away from Apple store as soon as the new version is available.
Finger Print Scanner

Both the phone comes with the finger print sensors and some other interesting features like iPhone 7 has new TouchID, stereo speakers and no headphone jack whereas Samsung S7 has the heart rate sensor.
Battery
Samsung S7 comes with 3000mAh (not removable), fast charging and fast wireless charging battery whereas iPhone has not specified it's battery power but we believe it would be around 1700 to 2000mAh. We need to remember the display size and resolution offered by the Samsung S7 which needs such a powerful battery. People experience of battery depends highly on their usage. S7 battery may slightly quickly discharges as it offer very high resolution display but Samsung compensated it by offering fast recharging facility to the user.
Note. Undoubtedly, Apple and Samsung are both top class companies in producing smartphones over the years. Samsung S7 and iPhone 7 shares amazing, premium builds with powerful hardware and many interesting features. You can't go wrong choosing any of them.