Samsung have recently offered up possibly their most aesthetically pleasing and technologically up to date television to date, the UNHU9000 4K LED LCD, which features an iconic curved screen. With a price that has jumped up severely from other, flat screen TVs with similar specs, just how much of an asset is the curved screen to viewing experience and does it actually enhance picture quality? Basically, is it worth the price hike?
To start, it has to be said that the TV is gorgeous. The design is flawless, and looks almost futuristic, and the picture is excellent too, as you would expect, with very accurate colour, achieved by PurColour technology which employs both primary and secondary colours to focus on as adjustment points to give a wider range of colours that look more like they do in the natural world. Precision Black Local dimming technology gives the picture on the TV sharper contrast by dimming LEDs in the darkest area of the picture which makes the blacks appear darker while the brights remain equally bright.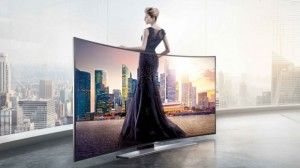 The TV has the best available connectivity and upgradeability, and comes with a great remote control and just about every extra feature you could possibly think of. As a smart TV it comes with all the usual apps available on the Samsung Smart Hub, which is an impressive list. It comes in three sizes – 78″, 65″ and 55″ and all offer the option of UHD upscaling on everything you watch by using detail enhancement to upgrade the quality of the picture. The set also has an auto depth enhancer that automatically adjusts regions of each image to give the feel of increased depth and detail and makes picture look more natural.
So the UNHU9000 does have incredible picture quality with a ton of different technologies that ensure the images are razor sharp, and the hues a perfect match with reality. And then it has the added feature-worthy curved screen.
Samsung advertise the curve as beneficial to viewing because it is designed to give the viewer an improved field of vision, and also create a panoramic effect that makes the picture seem bigger and creates more immersive viewing.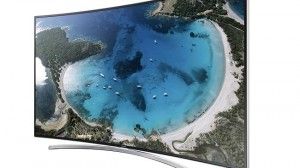 However, when push comes to shove, the curve does not add a huge benefit to viewing experience because it in itself does not increase the quality of the image. This TV would be an excellent model without the curve anyway, because of its incredible picture and fantastic list of features, but the fact of the matter is that the curved screen adds a massive amount to the price, but precious little to the overall viewing experience. Beautiful as it is, it is a lot to shell out for a curve that is not really a factor in enhancement of viewing, and as much as we want to love it, it is difficult to justify the hugely increased cost, so it is with sadness that we have to conclude we will stick with our flat screens for now.