(Last Updated On: December 3, 2015)
Smartwatch makers are getting better at designing. The first smartwatches were made without any intention to disguise them as "normal" wristwatch. Now you can have smaller round-shaped smartwatch that goes perfectly well with your style. It is safe to expect that the coming models will even get smaller yet more functional as both timepiece and complementary device for your smartphone. The people at Rufus Labs, however, think the other way round as their latest creation, called the Rufus Cuff, is a smartwatch with a rectangular 3-inch screen.
Marketed as a "wrist communicator", the Rufus Cuff runs Android 4.4 KitKat and has a screen that produces 400 x 230 pixels resolution. To put it to perspective, that is about 70% of the screen real estate that the first five iPhones gave us. The Cuff also has front-facing camera for video call, Bluetooth 4.0, and is powered by Cortex A8 processor. Rufus Cuff does run Android operating system and therefore provides full access to Google Play, but it works with both iOS and Android smartphones; you can control them from this wrist communicator. There is a built-in mic, speaker, gyroscope, accelerometer, and touchscreen keyboard. The main device is attached to a silicone band that's available in five colors.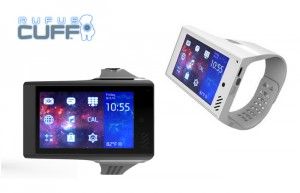 With such big screen and impressive specification, you will be forgiven to think that it is better to just strap a smartphone to your wrist. But Gabe Grifoni, the co-founder and CEO of Rufus Labs, has an excellent argument about it. According to Mr. Grifoni, smartphones are getting bigger with most devices now bring 4-inch screen. The real actual goal of Rufus Cuff is to relegate smartphones or phablets to hub devices; they will act like a home router to push information to other devices that can be used for two-way communication, without pulling your big smartphones from your pocket or purse. He also adds that Rufus Cuff even with 3-inch screen is much thinner than a smartphone strapped to your wrist.
Unlike smartphones, however, Rufus Cuff is designed to be used in landscaped orientation. It makes a lot of things easier such as typing, watching videos, reading emails, etc. It does not have SIM card slot, but it can work as stand-alone device over WiFi. With hands-free audio, video, and voice control, this is even geekier than any smartphone.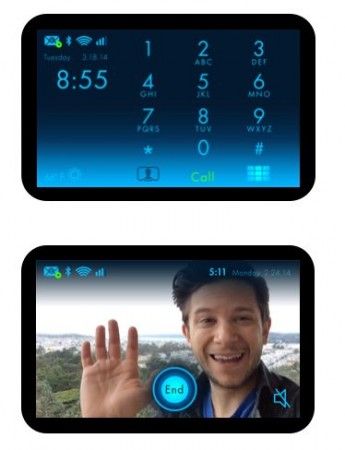 Rufus Labs eventually wants to create an ecosystem where their wrist communicator can work to eliminate the needs for smart phone, wallets, and keys. For examples, it can connect to online payment methods or control smart locks on your garage door.