(Last Updated On: December 3, 2015)
ATIV book 9 pro and spin's first look:
After waiting anxiously for months, Samsung fans are now able to get a thrilling look at the Samsung much applauded ATIV book 9 Pro and ATIV book 9 spin. The tech giant has upgraded their ATIV notebooks series of laptops with these astounding devices packed with high end specs and sharp displays. Both laptop models have been designed incredibly for two unique purposes. The ATIV book 9 pro has been developed for a highly professional use while the spin has been manufactured to deliver enhanced mobility and a striking look for everyday use. Samsung has proved its credibility a number of times before with its hard hitting gadgets that have swept the market off its feet. The users across the globe have witnessed the mesmerizing monitors and screens by the company and Samsung continues the legacy with its first ever 4K laptop and outlandish transformer notebook. The devices are going to hit the market very soon and fans across the globe have got fingers crossed in anticipation to get hands on these magnificent laptops.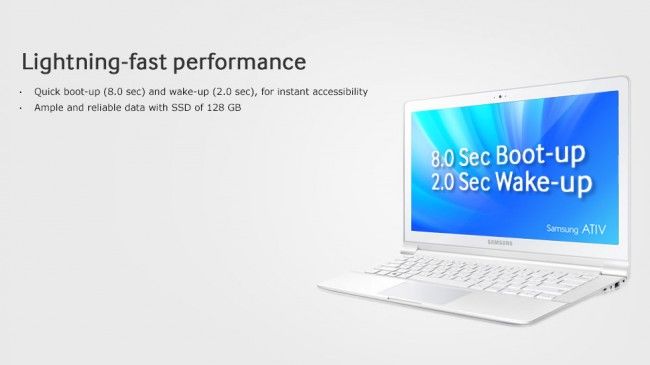 Design and specs:
Samsung has managed to adorn its ATIV Book 9 pro with brand new specs and features. With a touch screen of 3840×2160 resolution, the company stands proud in the market as it once again has got edge in the market. The company claims this to be their best developed screens till date. On the other hand, the Spin is no less than its counterpart and boasts 13.3 inches touch screen display coupled with QHD+ resolution of 3200 into 1800.
The pro has been designed for a professional use and besides the HDMI, USB ports, headphone ports, and microphone, Samsung has packed the device with USB type C connectors for IT experts and professionals. The Pro also features a W-Fi booster v2 to allow seamless wireless internet connection even with poor or low signals.
The Spin version is designed focusing on improved mobility and design. The device is able to rotate at 360 degrees and can be utilized as a tab, a laptop, and a tented screen.
Similarities:
Both spin and Pro come packed with sixth generation core i7 processors. Spin comes with a 2.50 GHz RAM while Pro packs a RAM of 2.60 GHz. Both models have a storage capacity of 256 GB.
Wrap up:
ATIV book 9 pro is said to be available at the price of around 1600 dollars and Spin at the price of 1400 dollars by the end of Nov, 2015 via Samsun Online and best buy stores across the USA.