(Last Updated On: December 3, 2015)
Sonos exquisite Play 5
Sonos is a name that does not go with the fast changing trends. Its core hardware has not changed like others have changed theirs' over time. It never rolls out updates for its speakers every now and then and takes time to plan things. The company creates exquisite devices that are durable and are kept in line with current trends via minor software updates. No matter which Sonos device you use, the company makes sure that customers get the best quality speakers that last long. Sonos launched the Play 5 back in year 2009 as its very first wireless speaker. This was the product that made the company grab much applause and appreciation from the global market.
Enhanced UX
Initially the company paid attention over the conventional setups. With the launch of play 5, Sonos focused more on the UX (user experience) and that is what made the device utterly famous among masses. The enhanced user experience made Sonos a well celebrated name and the customer base readily increased. The software upgrades could now be sent to the speakers for enhancement of the sound and for adding new features and characteristics. After six years, the play 5 has made a comeback. The legendary Sonos' device has been launched again with advanced features.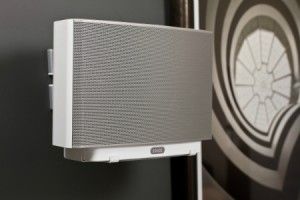 Design and appearance

The company says that the concept behind the launch of new Play 5 was to design a classic speaker with modern features to best fit the digital era. More focus has been paid on revamping the design and introducing flagship sound. The appearance of the new Play 5 is different from the original model. The design follows the footprints of the Sonos Boost and is overall a clean and modern design with an elegant look and feel. Sonos has always worked hard over creating unique design and play 5 is no exception.
Major features
The device can be oriented on any vertical side and also horizontally. The design works well on all three orientations. The design follows a simplistic style giving device a more natural look. The device weighs 6.36 kilograms and measures 364 x 204 x 154 millimeters. Major features include 6 custom design drivers coupled with dedicated amplifiers. The true play tuning feature plays sound that is in line with environment and surroundings. Users can authorize control over music and stream music via single application. The device makes use of the Wi-Fi for streaming services and is quite simple to set up.
Sonos Play 5 is all about adjustable sound controls, enhanced UX, and expandable design. Get the device and start rolling to quality sound!