(Last Updated On: May 31, 2017)
The tablet by the Apple Inc. that is the iPad Air has been very well received by people worldwide. It was released on October 2013 itself with a slim body and 64bit Apple A7 processor. This feature rich tablet did good business in the market and this year it is time for iPad Air 2 or iPad 6 to make entry into the market. The date that has been announced by Apple for the launch of its iPad Air 2, and it is October 16, 2014.
Speculations surrounding the new tablet
There are a lot of speculations that has been going around about the new generation tablet from the Apple Inc. The launch of the Apple iPad Air 2 will be marked by an event and the invitation for the event has already been sent out. The launch of the iPad Air 2 would be somewhere around October, and it was somewhat predictable going by Apple's pervious launch history. iPad Air was flagged as a true successor to the iPad 2 and got appreciated for its size and weight. People have their own expectations from the new iPad but going by the different kinds of speculations that are making rounds, it seems that some features on the new iPad would be same as that of the iPad Air where as some new features would be introduced as well.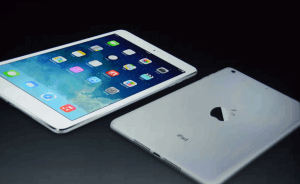 Going by the speculations one can form a faint idea on how the new gadget is going to turn out to be.
The Display Quality: According to the experts and the speculators the screen size of the new iPad is going to remain more or less the same. But the quality of the screen resolution may improve. One can expect a thinner and lighter IGZO screen along with better power efficiency.
The Design: The design is most likely to remain the same as the iPad Air which again resembled the design of the iPad 2. Though it can be made a little thinner and lighter so that it can be put against the Samsung and the Sony tablets which were launched recently.
The Specs: The iPad Air 2 can be expected to have a faster processor, i.e an A8 in place of the A7. Also it is very likely to have a RAM of 2 GB both of which make it very impressive.
New Features: The new iPad can have a Touch ID fingerprint sensor and also a smart cover keyboard as well.