(Last Updated On: January 1, 2017)
Transforming raw footage into a captivating video is a time-consuming task that requires great attention to detail. For best results, one will need a lean and mean editing tool to lighten up and hasten the workload. This is why we have come up with the top 10 video editing software available today.
Today, it's very easy to capture video; thanks to the functionality that our versatile smartphones can afford us. From taking a video to uploading it on video-sharing websites, all these you can do at a touch of a button on your mobile device. And it's not just a raw video that we're talking about here.
Because of the rudimentary editing tools that are built into the most basic smartphones (or cameras & PCs), you can do basic clip editing before sharing them on the internet.
However, for the experts and perfectionists who want to enhance the visual experience that final output can provide to viewers, you will certainly need more than just the tools installed in your smartphone, PC, or camera.
When you wish to add soundtracks or transition effects, or splice or trim, or add visual effects to your video, you may have to get your hands on powerful video editing software.
At its most basic, video editing software combines videos, sounds, and pictures into one so you can end up making a coherent story with a look and feel that is entirely unique to your experience.
Typically, the precision, functionality, and work-space that such an application provides to users makes it superior to most, if not all, in-device editing tools found on smartphones or cameras. Nevertheless, this doesn't necessarily mean that all software of this kind are built the same.
Pay your favorite software shop a visit or browse popular shopping websites and you'll see that there are quite a lot of video editing software at your disposal. Undeniably, this can make your search for a suitable program a challenging, often overwhelming, task.
However, to help you narrow down your options, we've asked the opinion of the experts and came up with this top 10 list.
CyberLink PowerDirector 14 Deluxe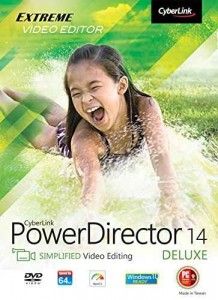 www.cyberlink.com
Its an Easy-to-use home video editing software with 500+ editing tools and effects. You will be able to create amazing videos in minutes!
It has creation modes that ensure you spend less time learning and more time creating.
Effects like – Transition, Animated titles, PiP objects, Particle Effects, Color presets and much more are present to help make your videos quickly and easily.
Supported formats and codecs include MOV, MKV, H.264, and FLAC. PowerDirector 14 has significantly improved video performance when working with the popular WMV format, as well as adding FLAC audio editing support.
Adobe Premiere Pro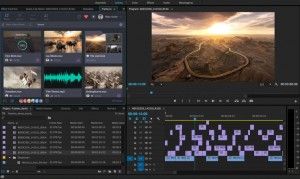 www.adobe.com/in/products/premiere.html
Make visually stunning videos virtually anywhere.
With the industry-leading video production tool set, you can work across desktop and devices to edit virtually any media in its native format and create professional productions with brilliant color for film, TV, and web.
It's the most colorful Premiere Pro yet. See how the fastest and most efficient video editor helps you create your most visually stunning productions yet — and quickly make the switch from Final Cut or Avid.
Premiere Pro is part of Creative Cloud, and it comes with Adobe CreativeSync, so your assets are always at your fingertips right when you need them.
CreativeSync powers your Libraries, and it connects your mobile and desktop apps.
Corel Video Studio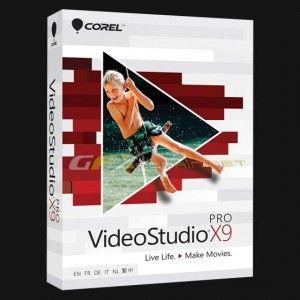 www.videostudiopro.com
Make your most engaging movies ever with VideoStudio Pro X8.5. Smart new features take routine editing tasks out of your way, freeing you to explore exciting new creative options.
New Audio Ducking automatically detects audio and narration to keep foreground and background sound balanced. Helpful features make it easier to manage clips, combine projects, and re-use custom filters and transitions.
Get creative with new overlay objects, Video Masking, Freeze Frame and bonus effects from NewBlue. Access 6 weeks of free training from StudioBacklot.tv to get started quickly and learn about advanced editing techniques.
With proven 64-bit performance and support for multiple formats, including new XAVC S, VideoStudio Pro X8.5 makes it fast and fun to create movies you'll love to share.
MAGIX Movie Edit Pro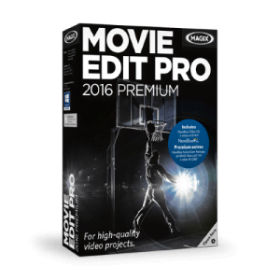 www.magix.com
Even beginners can easily remove unwanted scenes from videos or add incredible effects, transitions, and suitable music to turn raw video footage into movies that will impress any viewer.
Comprehensive support for the latest camcorders and faster video import makes Magix Movie Edit Pro a favorite for may. It also contains resolutions up to 4K for truly enjoyable editing. Create impressive videos in a flash with brand new title templates and proDAD Mercalli V2 for image stabilization.
Accurate editing down to the frame, 32 tracks, and an intuitive user interface let you stay one step ahead.
Export your movies to DVD, Blu-ray Disc, mobile devices, YouTube and Facebook.
Sony Movie Studio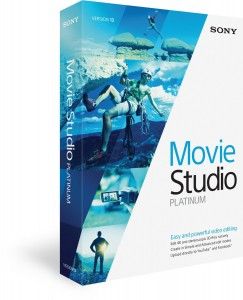 http://www.vegascreativesoftware.com/us/
Smartphones make it easy to make movies and Sony Movie Studio makes it even simpler to make those movies stand out. With a streamlined workflow, powerful editing tools, and a vast array of video and audio effects, the art of moviemaking is right at your fingertips.
Add titles and music. Add color correction and transitions. Movie Studio offers all the tools and features you'll need to put your masterpiece together, fast.
Movie Studio is touch-enabled for touch PCs, which means that using a mouse to drag and drop clips to the timeline is a thing of the past! Make edits, add transitions and effects, and record a voiceover – all with the touch of a finger.
Share your movies with others. Upload them directly to YouTube™ or Facebook™ from the Movie Studio application!
Windows Movie Maker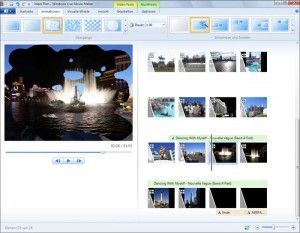 http://windows.microsoft.com/en-us/windows-live/movie-maker#t1=overview
Import/Edit slideshows and videos. To make a movie with Movie Maker, you'll need some photos and videos on your PC. Import photos and videos from your phone or another device to get started.
Trim it, split it, speed it up or slow it down, you can also choose a theme to express your unique style.
Bring your movie to life with a soundtrack that you can edit yourself. When your movie's done, publish it to the web so you can share it with family and friends.
Free
Lightworks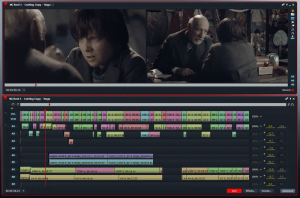 www.lwks.com
Lightworks is EditShare's Academy and Emmy award-winning, professional Non-Linear Editing (NLE) software supporting resolutions up to 4K as well as video in SD and HD formats.
In the last 25 years, Lightworks has been used to edit some of the finest films in cinema history: The Wolf of Wall Street, LA Confidential, Pulp Fiction, Heat, Road to Perdition, Hugo, The King's Speech and many more! We're proud of its heritage, and we want to share it with you.
Discover the incredible features of this application and why Oscar-nominated editors around the world use Lightworks Pro every day.
Free
8.Pinnacle Studio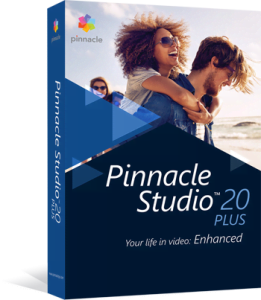 www.pinnaclesys.com
Make your most interesting and exciting movies ever with the new Multi-Camera Editor in Pinnacle Studio 19.
View and edit footage from 2 cameras, and align clips automatically with Audio Syncing. See results faster with 64-bit power, support for Intel's 6th Generation processor (Skylake), and enhanced HD processing and playback performance.
Add style with 1,500+ 2D/3D effects and choose the perfect sounds and music from the ScoreFitter library.
Share your movie directly to Facebook, YouTube, and Vimeo, on the latest devices, or enjoy an easy authoring experience with Pinnacle MyDVD.
9. AVS Video Editor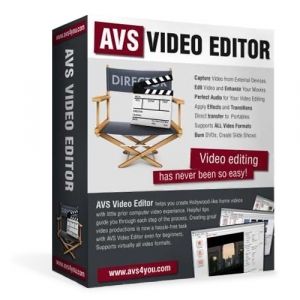 www.avs4you.com
Trim, cut, split, merge, rotate, mix videos. Apply effects and overlays, insert menus, audio, texts, and subtitles. Burn DVD/Blu-ray discs.
AVS Video Editor supports all key video formats. Edit & save video files in AVI, VOB, MP4, DVD, WMV, 3GP, MOV, MKV, H.263/H.264 codecs, etc.
Transfer video from DV-, web- or VHS-cameras and save the video on hard drive or burn DVD discs. Or record media files from your PC screen and create video guides, training videos or demos. Share Your Video by Uploading newly made video files to all popular video hostings such as Facebook, Flickr, MySpace, etc., directly from AVS Video Editor interface.
10. Avidemux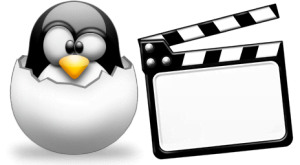 avidemux.org
A free video editor to cut, filter, and encode projects.
Avidemux is a free, open source cross-platform video editor for Microsoft Windows, Linux, Mac OS X, and BSD. It is written in C++, and you can use it for various tasks such as encoding (convert videos from one format to another), cutting (cut certain portions from a recording) or filtering (resize, deinterlacing, add subtitles, color correction, etc.).
Has built-in support for many popular codecs and files: AVI, MP4, ASF, DVD, MPEG, MKV. It is one of the best free video editors whenever you need to automate video processing or editing process.
The software is released under the GNU GPL license and has been released (binaries) in both 32-bit and 64-bit versions.
The following are the factors used in determining which programs would deserve a spot on this list:
Editing Tools

Ideally, video editing software has to come with an array of tools that can assist users in achieving their desired output. It should have organizing tools such as timelines, media bins and storyboards.

In addition, the software must have an image stabilizer feature to eliminate a shaky visual output. Lastly, an audio mixing tool is a must so the user can readily add sounds and music beyond the ambient sound captured while filming.
Ease of Use

Whether the raw footage has been captured using a DSLR, entry-level digital camera, smartphone, or a video recorder, good video editing software should have the capacity to identify and import such video files fast and easy.

Aside from this, the application should make the workflow easy by having in-app explanation and tutorials of available tools and features.
Technical Support

Even if every function in a program has been made user-friendly, it still helps if a user has people to consult and collaborate with.

Thus, a decent video editor has to offer free tutorials, responsive technical support, and a robust online community that are all easily accessible.
Sharing

With the internet being the most likely destination of many video creations, a good video editing program need to have a function that lets users upload their output to websites like Facebook or Youtube straight from the software. It should allow them to export a file that is optimized for viewing in smartphones, DVDs, Blu-ray discs, and tablet PCs, too.