(Last Updated On: May 31, 2017)
Mobile GPUs are slowly creeping up to match the prowess of desktop GPUs. While the timeline for mobile GPUs to actually start displaying such graphics horsepower might take a while, Imagination Technologies has unveiled its next-gen PowerVR Series 7 GPUs, which according to the company, will deliver a performance boost of 60 percent when pitted against the company's Series6 GPUs. Imagination Technologies' flagship Series7XT GT7900 will possess 16 clusters, along with 512 ALUs, and peak theoretical performance that will scale above 1 teraflop.
In short, the performance numbers are more or less equivalent to Nvidia's GTX 750. Furthermore, thanks to Android's 5.0 Lollipop update, additional graphical features such as hardware tessellation and ASTC texture compression will end up bringing serious 'eye candy' level graphics to smartphones and tablets.
Imagination Technologies
Imagination Technologies is a chip designer originating from England. The chip designer is mostly known for its PowerVR brand of GPUs, which are found to be incorporated in Apple's SoCs since the company launched its A4 chipset; a chipset present in the iPhone 4 and the original iPad. Imagination Technologies current GPU, the six cluster PowerVR GX6650 adds to the processing ferocity of Apple's A8X chipset, which is found in Apple's current flagship tablet; the iPad Air 2. The GPU performs equal to the Kepler-based GPU that is present Nvidia's Tegra K1 SoC.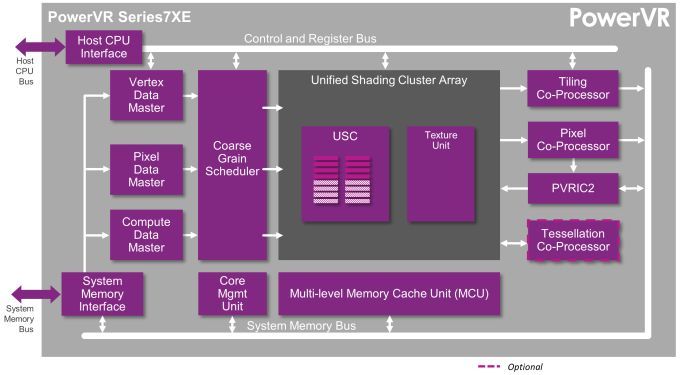 When do we expect to see it?
The Series 7 XT GPU will not be released for at least 12 months. Rumor has it that the GPU will most likely be fitted with Apple's A9 or A10 SoC, and will present a direct threat to Nvidia's Maxwell architecture mobile GPU and Qualcomm's 500 series Adreno GPU.In addition, Imagination Technologies has also announced the Series7XE; a GPU which belongs to the same series but carries a smaller mobile graphics rendering punch with it.