(Last Updated On: September 22, 2018)
Generally the word "torrent" means a strong and fast moving stream of any liquid but in the e-world it is the file extension. Torrent file stores the data like video, images, texts, software, application, audio or anything along with metadata. Metadata contains special information about the real data
Name of the file or folder
Information about the length of the file
File are divided into equal segments, and number of bytes of each segment is defined in it
A hash list
Tracker url
Information about the file location or path
The actual size of the file in bytes
These torrent files, doesn't matter how large the sizes are, are shared on internet by special protocol called BitTorrent. BitTorrent protocol enables the individual to share large files without the bandwidth limitation because it is a peer-to-peer p2p protocol which means computers interact directly with each other without the need of a web server. Traditionally a file is shared on the internet with the help of a web server and when that server is accessed by too many users no one gets the file as the server would crash.

There are special downloading software's available freely such as "utorrent" or "qBitTorrent" to share torrent files through BitTorrent protocol. The metadata information of the Torrent file is used by the BitTorrent protocol and the uTorrent or qBitTorrent software on user PC to make the sharing possible.
How Actually Torrent Works?
We know that the traditional way of downloading a file from internet is done through web servers. Every user has to connect its PC to the server to download the file. BitTorrent don't use a centralized server because it works like a "swarm" where group of computers connected directly with each other downloading and uploading the data.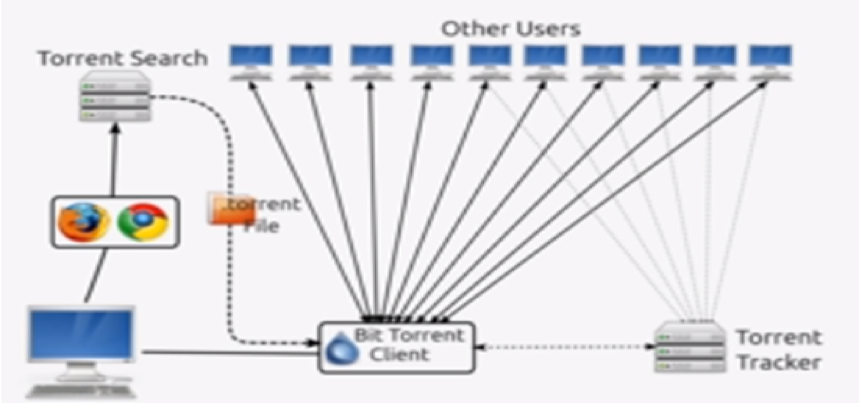 Let say you want to download Furious7 movie and you found it in a torrent file and you have already installed uTorrent software in your PC. When you click on the .torrent file your computer loads a metadata of that .torrent file into uTorrent and joins a BitTorrent swarm. BitTorrent already contains tracker specified in the metadata. The tracker shares their IP address with all other Bittorrent clients or uTorrent in the swarm, enabling them to connect with each other and once they are connected, the client starts downloading in small segments. When one Segment is completely downloaded, it immediately starts uploading it to other BitTorrent client swarm which means every client is downloading and uploading the furious7 movie simultaneously.
Powerful Feature of Torrent Downloading
The most powerful feature of BitTorrent protocol is that the downloading and uploading speed increases with the increase in number of people accessing that torrent file.
Another great advantage of the BitTorrent download is that it has the option of resume. It means you can pause, stop and resume downloading your torrent file any time. Their are many other alternatives to BitTorrent, see our list of our top 10 torrents here.
Are BitTorrent Legal or Illegal
It all depends on what you are downloading. There are some websites that only offers legitimate or public domain contents but there are other many sites which offer pirated movies, music, songs and books etc. Overall it is the responsibility of individual to decide what to download and what not.
How to Download Torrent File
It's very easy you only need  to install a Torrent client like uTorrent or qBitTorrent on your PC and then when you want to download a torrent file your browser will automatically open your torrent client.