(Last Updated On: May 31, 2017)
HTC has unboxed the cat out in the form of Desire EYE. This handset is primarily defined with two 13-megapixel camera modules snugged in both front and back panels of the device. Aside from the powerful Sanpdragon 801 and 2GB of RAM, this Desire phone also has a lot to offer in terms of software and camera experience. Check out, right after the fold as we give you specifics on what the EYE can do underneath.
HTC Eye Experience
The device is basically powered by the Android 4.4 KitKat with the latest Sense interface on top. This handheld touts the two camera-centric apps called the Eye Experience and the new Zoe. The previous app will allow users to use both 13-megapixel cameras in their full potentials. There's the Split Capture functionality that will split your photos between front and back cameras. This tweak is also supported by the Crop-Me-In feature that will crop you in a background photo captured by the back camera.
The EYE Experience will also be rolled out to most of the company's upper mid-range to flagship-grade smartphones like HTC One M7, HTC One M8, HTC One E8, HTC One Mini, HTC One Mini 2, HTC One Remix, HTC One Max, HTC Desire 612 and HTC Desire 816 months from now.
Video Calling Front Camera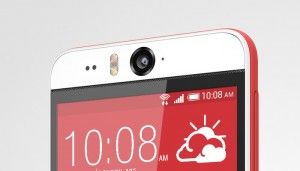 The front-facing camera promises to give users the best camera experience for video calls. This selfie shooter tracks at most four faces and focus onto them while the call is in progress. This functionality is also integrated with third party apps like Viber and Skype.
The New HTC Zoe
The new version of the Zoe app comes with a collaborative video editing and can integrate with the new HTC RE action camera. Zoe will also be available for Android and it will also come to iOS users later this year.
The Wrap
In case you haven't noticed, the HTC is positioning the Desire Eye to cloud the "selfie" market wherein most of the midrange releases are enjoying right now. The company has received several backlashes in terms of its camera branding with the UltraPixel fiasco. However, today, the company clearly rises from the pitfalls and is tagged as the king of "selfie" phones.