(Last Updated On: May 31, 2017)
Microsoft has taken its wraps off of the latest iteration of its iconic operating system, the Windows 10. This successor to the famous Windows 8 and Windows 8.1 has all the elements that we are looking for to a modern Windows ecosystem and after months of rounding the internet with several screenshots, it's finally here. Check out all the details that you need to know about the newest OS installment from the Redmond company.
When all of us are expecting the next iteration to be tagged as Windows 9, Windows X or Windows One, the company has skipped one notch and settled to Windows 10. The operating system promises to be the best productivity platform due to the fact that it tallies a plethora of features that envelopes this major release.
One Windows Store
Having a unified App Store for both Windows and Windows Phone platform is one of the major leapfrogs for both ecosystems as well as the company's gaming suite. Now, there's only one platform for users to buy apps whether they are running in Windows, Xbox or Windows Phone. Looking ahead, we will be seeing great selection of apps in a one-stop centralized store.
Start Menu
The famous Start Menu was sacked by the software company in its introduction to Windows 8 enabling touch devices to experience the Windows ecosystem. The minor Windows 8.1 update may give the basic functionalities like shutting the device down, pulling the control panel and other necessary computer management too by right clicking the Windows icon in the taskbar; but this update includes the traditional Start Menu that we have accustomed to in Windows 7. However, it still has the influence of the Metro Style UI since the tiles are now integrated in the Start Menu giving the new platform a best of both worlds.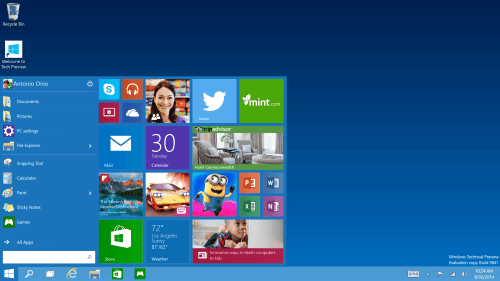 Windows 10 for Enterprise
It is no doubt that Microsoft is the leader in computing enterprise market and with the release of this latest build, the company has solidify its claim to be the best enterprise platform in the world. This includes several features such as corporate data protection and modern management.
Better Search Function
The highly effective search function in the Start Menu has now been fuelled up with better functionalities. You can directly input queries in the search bar and the result items now have both web and local support.
Metro Apps Optimizations
Your modern apps are now welcome in your traditional Windows environment. Most of these are optimized with desktop environment. Thus, using these apps with a mouse and keyboard is now easy compared to the experience that you had with Windows 8 back in 2012.
Task View Multitasking
We all love Windows due to its superb multitasking capabilities. With Windows 10, a nifty feature called Task View is introduced giving users an iOS-like view on active windows.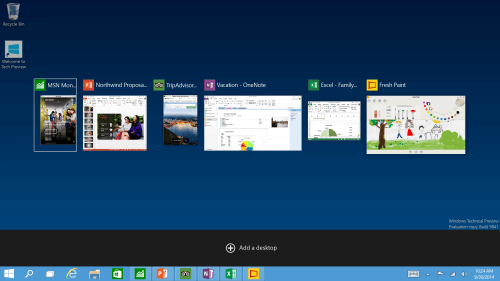 Snap Assist UI
This feature allows up to four apps to be snapped on the same screen. It also has a smart suggestions feature that lets you know which app to close in a specified time.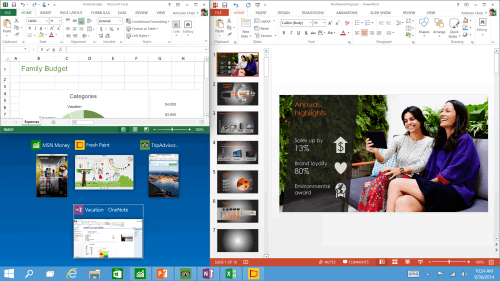 Continuum
This feature tailors the system behaviour in switching from Desktop to Tablet mode depending on what hardware is being used. Thus, you can switch between desktop and tablet in a nearly seamless experience.
Multiple Desktop
You can now organize your applications into multiple virtual desktops. Your files and applications can now be presented in different sets and you'll also have the capability of having separate desktop for specified tasks.
Windows Flexibility
The latest version of Windows is specially made for all devices of different screen real estate. This means that you can run the Windows 10 in as small as 4-inch smartphone up until the very wide 80-inch device.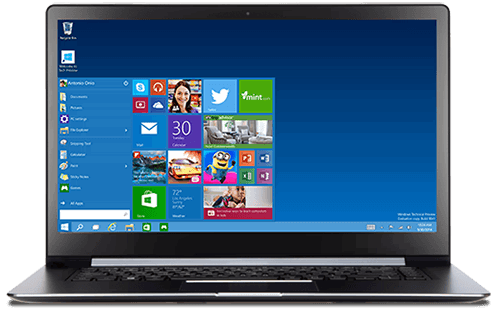 Availability
The Windows 10 will be out for those who want to tinker with the latest Microsoft software on October 1st with its own Technical Preview. There's also the new Windows Insider Program that will allow users to deal with unfinished software if they wish to do so.
The Windows 10 will be available in Q2 of next year just in time for the annual next BUILD conference. There's no word for the products availability yet, however, Microsoft is very confident that it could have a huge footing with this upcoming platform.
So why did microsoft skip windows 9 overawindowsll? Click here to find out